Felony cases related to Crime of Moral Turpitude (CMT) may regain their rights to vote at the completion of sentence and payment of applicable court fines and fees. However, the same provisions do not apply to persons convicted of these particular crimes:
Murder
Rape
Treason
Crime involving children
If found guilty of any of these charges, the felon will be disenfranchised for life.
Here's a more detailed list of offenses under the CMT
Murder
Rape
Certain involuntary manslaughter
Voluntary manslaughter
Incest
Child abuse
Spousal abuse
Robbery
Aggravated assault
Kidnapping
Conspiracy
Fraud
Mayhem
Animal fighting
Felons in Alabama
For a detailed view of voting right of felons in Alabama, check out American Civil Liberties Union (ACLU) for Alabama. If convicted for a misdemeanor, your voting right remains intact. Even when incarcerated for any of these crimes, you can still exercise your right via absentee ballot.
However, if convicted of a state felony, your voting right remains intact for these crimes:
Simple assault
Unlicensed business
Permitting, facilitating, or aiding escape of a prisoner
Under the influence or possession of a regulated substance
Violating state liquor legislation
If the above does not capture your particular felony, your right to vote will be restored after submitting a voting reinstatement request. Often, you may be required to register for a Certificate of Eligibility to Register to Vote – commonly, CERV.
Besides, a pardon request is required for the following criminal cases:
Murder
Impeachment
Incest
Rape
Treason
Sexual torture
Sexual abuse
Sodomy
Read also: Can A Felon vote in Maine?
Restoring Felons Voting rights in Alabama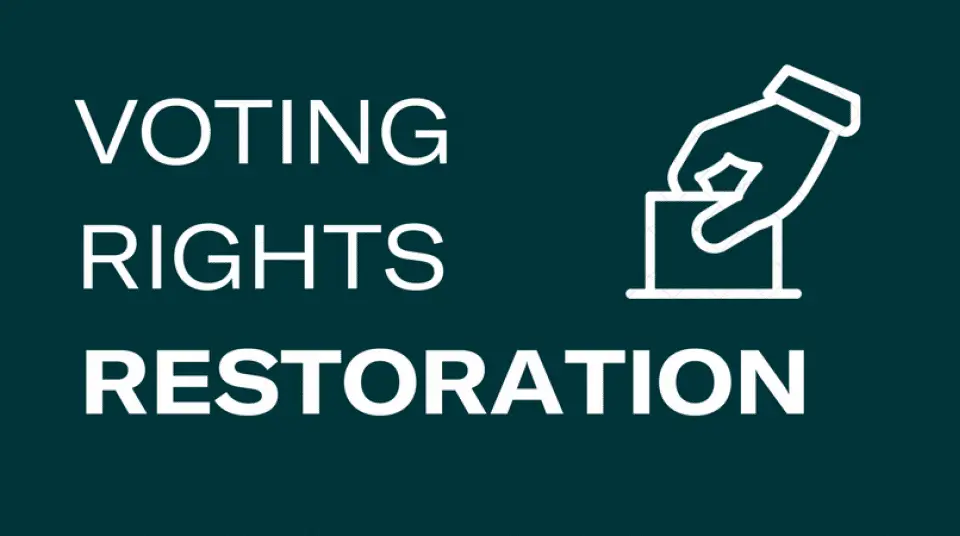 If your felony would not need a pardon, you may opt for a CERV on completion of your sentence – including periods of probation or parole as well as remittance of all court fees, fines, cost, and restitution to victim.
For applications to the Board of Pardons and Parole, call 888-685-7979 – ACLU's contact – or download the application form
Typically, the Board of Pardons and Parole responds to pardon request within 50 days after applying. The Board must grant your pardon request if you found guilty of any of the crimes listed above. Your application must state, clearly, your intention to request restoration of your voting right.
However, the court, sometimes, pardons a felon without restoring their voting rights.
If the court responds to your request without stating, explicitly, the restoration of your vote right, then you've been pardoned but still ineligible to vote.
As mentioned, felony, including treason, a child, rape, or murder, may not be pardoned – they bar the convict's voting rights for life.
Does your conviction allow you regain your voting right at completion of sentences and satisfaction of other legal terms? If yes, you can get an application form from your county court, local post office, WIC program, DMV, community center, parole or probation office,  NAACP chapter, or welfare office. You can also download the form online
Remember, the right of offenders vary across states
 Voter Registration Rules
Voting registration in Alabama requires that registrant must be:
18 year, on or before the date of the next scheduled election
A U.S citizen
Alabama resident at the registration time
Not pronounced mentally incompetent by a competent court
Not been pronounced guilty of an offense punishable by incarceration in the penitentiary. Or, otherwise, have restored their political and civil rights.
Affirm or swear to affirm the provisions f the American constitution
Not been found guilty of impeachment of any treasonable crime. If registrant has been convicted of rape, murder, sexual abuse, sodomy, sexual torture, luring a child to commit immoral acts, parents/guardians allowing kids to get involved in obscene issues, producing obscene matter, distribution of child pornography, soliciting kids via computer, they must have requested for, and received pardon, prior to voting.
If found guilty of any felony graded as crime of moral turpitude, you will need a Certificate of Eligibility to Register to Vote. Felons convicted of crimes like DUI are qualified to vote.
See voter registration rules across other states
Avoiding Problems at the Polls
Eligible voters can vote before the scheduled election date, via an absentee ballot.
Call 1-800-274-8683 (Alabama Secretary of State's care line) to ask about your polling unit. Or check online.
Voting early on the Election Day will help you beat the long queues
Go along with a photo ID. Drivers license, passport, or voter ID are all accepted voter identity documents in Alabama.
Voters' Rights at the Polls
On the polls' day, felons have right to:
Private and confidential voting
Request for and get assistance – except from union representatives or employers.
Freedom from campaigners' intimidation. Campaigners must maintain, at least, a 30-ft distance from the polling center.
A full ADA-complaint and easy-to-access polling unit. You may opt for absentee ballot where not available.
Vote, even with "inactive" voting status. However, you will have to update your registration info.
Demand for a provisional ballot, in the event your name does not appear on the voter rolls.
Call 1-800-274-8683 – Secretary of State's call line-  in the case of any violation of rights or to complain.
Read Also: Felon voting rights Indiana