If you have ever been to Chicago, then there is a huge likelihood that you have been on CTA. The CTA is a public mass transit company that serves as the major transport company in the windy city. For individuals who are ready to put in an effort to work, there are tons of employment opportunities that await you. But our focus in this article still remains, can felons work with the CTA? This question will be answered as you read through this piece and will also help you know CTA the more.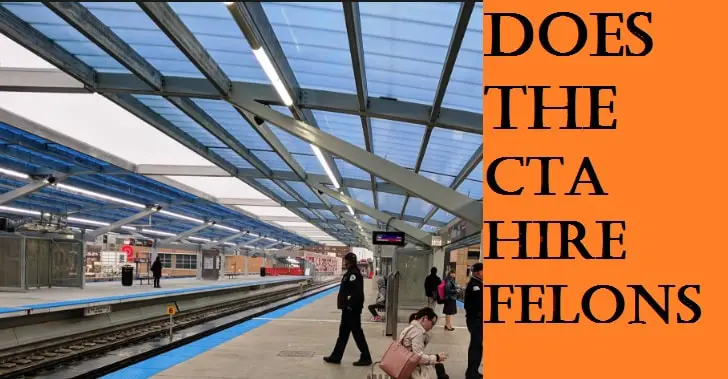 An Overview of the Second Chance Plan by CTA
The CTA, which is an acronym for Chicago Transit Authority provides a Second Chance Plan for people who are at one point incarcerated or who find it difficult securing a job. The scheme is run in affiliation with the City of Chicago and social service agencies in Chicago. This program is in a way also affiliated to the Family & Support Department, thus making it less stressful for job hunters and felons to get well trained and fully employed in the transport sector in Chicago.
Job Preparation Training via CTA
For you to be eligible for the CTA empowerment program, you must be fully resident in Chicago City and you must be 18 years and above. An applicant who meets these requirements will undergo ten weeks of intensive Job Preparation Training, after which a certificate will be tendered from a referral agency associated with the company.
Getting a job in the Mainstream – Different types of Second Chance Applicants
For you to apply for the CTA program and be admitted, you must not be under house arrest (putting on a metal band or bracelet); an alcohol or drug program or work release centers. According to a reliable report, this program stated that it is capable of providing up to 260 Second Chance jobs on a yearly basis. The enrollment of applicants and completion of the program is carried out throughout the year.
What are the things to expect if you are working under the CTA Program?
What and how participants get paid
The CTA Second Chance Placement training usually lasts for 1 year (12 months) on an average or just a bit longer. During this period, participants of the training are placed on $10/hr and they have the opportunity to work for up to 40 hrs per week. They receive their pay after every two weeks.
How apprentice positions are being filled
As soon as there is a vacant position for an apprentice, The Chicago Transport Authority will get in touch with one of the referring agencies. These agencies will then send a list of applicants that have already gone through mandatory screening and have successfully gone through the job preparation training requirement.
Getting set to start working as an apprentice
As soon as an applicant gets a recommendation, background processing is carried out through fingerprinting and he undergoes medical screening. After rounding up the medical test and background screening, an applicant is taken through an employee orientation in which he learns the criteria for eligibility, program guidelines, placements, union participation, and task related to an Apprentice task. As at when the orientation is taking place, all employment documentation is also carried out and completed.
Completing safety training
Before resuming work, all the potential intakes must first undergo safety training and it is all-expense paid. The essence of this training is to allow all participants understand the basics of CTA safety expectations and how to behave as a worker in order to maintain proper safety measures.
Third-day review & agency contacts
The third-day review is carried out when the program is on by apprentices employee's previous supervisor. Both apprentice employees and supervisors are expected to be in charge of the evaluation score – addressing a specific concern and providing feedback. The Chicago agency that is taking part in the scheme regularly provide case management on each apprentice and keep in touch from time to time throughout the period of the training.
After Completing Apprenticeship
After you are done with your CTA Second chance apprenticeship program, a reference letter and certificate will be issued to you by the Chicago Transport Authority. If you're not convicted or arrested for any other crimes, you are mostly encouraged to put in for a Chicago Transit Authority position, such as bus driver or transport car operator with the firm.
What qualifies you for CTA Placement Program?
If there is any question bordering on Chicago Transit Authority Second Chance scheme, you can easily get on the CTA's Hotline by dialing 312 – 681 – 2293. To find out more about the agencies affiliated with the CTA's Second Chance program, you can visit there CTA website.
Once you have contacted anyof the referring agencies, you would have gotten enough information about how to move to the next step of application. It could be quite difficult for you to establish a residence if you don't have or know someone who resides in the city or you're not an authentic citizen of the area. However, if you're formerly a Chicago resident, CTA is a nice place to apply for a job and blend smoothly into the society again.
Chicago felons or convicts might also want to seal their records, and this can take about two years to achieve. Going through these processes can limit a few of the difficulties that come along with after-conviction employment.
HB (House Bill) 3061 makes it possible for felons to get their records sealed by tendering an application to the court that was involved in their charge.
All about Sealing Records
Class-two felony conviction such as crimes for drug possession, burglary and delivery or motor vehicle theft are placed in the statute. People who are charged with crimes such as retail theft or forgery are also placed in the statute.
This is the right time to start your application process
Put in an effort to clean up your criminal record and ensure to use all available resources in case you dwell in the city of Chicago. As an ex-convict, the Chicago Transit Authority is a nice place to start your career especially if you have a goal of working and finding full-time employment.
Recommended Reading: Can A Convicted Felon Get Medicaid?