Can you vote in the state of Florida if you have a felony? On 8, January 2019, Florida's Amendment 4 became official. This constitutional amendment restored the voting rights of over a million — disenfranchised — felons. Ever since the republican-controlled Florida State has tried to create stumbling blocks against the re-enfranchisement of these former convicts.
Can a Felon Vote in Florida in 2023?
Earlier in the year (2019), the Governor of Florida, ­— Ron DeSantis ­— signed a bill restricting the complete restoration of the rights to felons with no pending court fees or fines. This executive move — which many likened to a poll tax — has sparked mixed reactions across the state. Critics say the law is unfair to the poor class.
The courts — on their part — believe they will be unable to retrieve a chunk of the money felons owe them.
Here are Highlights of the New Legislation
What Does the New Amendment 4 Cover?
Amendment 4 aims at restoring the voting rights of people formerly convicted of a felony — except cases of sexual— and murder—related offenses, after completion of their sentences (whether parole, prison, or probation).
As of 2018, people who had felony convictions on their records automatically lost their voting rights in Florida, except on rare individual occasions — where a state board restored such rights.
During the tenure of Charlie Crist, erstwhile governor of Florida, felons' rights were automatically restored by the Executive Clemency Board. The restoration typically comes after the completion of their court sentences, payment of restitution, and without any standing criminal charges.
Thankfully, the present governor — Ron DeSantis ­— eradicated such reforms introduced by his predecessor. In the present dispensation, felons are required to wait for, at least, 5 to 7 years — it varies between offenses — after serving their sentences before they can send a request to the board for consideration of restoration of right-to-vote — and related civil rights.
Other states policies
During elections, Florida is one among three other states — Virginia, Kentucky, and Iowa — that deny felons of the right to vote. Except on rare occasions where a state board restores their voting rights.
But with Amendment 4 approval, Florida currently sits among other nine states where felons' right to vote is restored after serving their sentences — whether probation, parole, or prison time.
What crime does Amendment 4 Cover?
According to the new bill, here are some felonies that do not come under the provisions of Amendment 4
Murder-related Crimes:
First and second-degree murder
Support for terrorism and terrorist organization where their violations caused serious bodily injury – or death
Sexually related offenses
Felonies that compel one to become a registered sexual offender
Completing Terms Of Sentence
After release from probation or incarceration, charging documents show a list of the defendant's remaining terms — restitution, court fines, and/or fees.
This is, however, more difficult for those whose crimes are way in the past.
So, simply completing probation does not clear you. The court may decide to round up your probation with "unsuccessful termination." This connotes that the individual still has some unfulfilled requirements — even when the state has ended its supervision.
In such cases, it is most likely that felons have satisfied all their sentences — except payment of fees and fines.
It is important to first contact your county court online to confirm your case file. To find yours, enter your full name, and your case number will show up. See links for Pasco, Pinellas, Hernando, and Hillsborough.
Recent cases ought to be online. However, cases above 20 years may require that you visit the courthouse and request to see your file.
Regardless of the number of times you've appeared in court, only felony convictions affect your voting rights in Florida.
The financial" section of your case file online displays the unpaid fines and fees payable on the particular case. You are free, only when the amount shows $0.
This amount used to compensate the crime victims — restitution — can be somewhat confusing.
Sometimes, restitution is made through the court — on the judge's order.  In other cases, the victim receives restitution directly from the accused.
A snag, however, is when one who ought to receive the restitution dies before payment of restitution.
That said, offenders should check with the court clerk — that's the 'bread and butter of their task. They can check up how much should be restituted and draw up a workable payment scheme.
What Happens where felons cannot afford the payment?
Amendment 4 legislation gives judges the right to waive fees, restitution, and fines — or convert them to hours of community service.
The county courts allow offenders to file an application to come before the judge for reconsideration.
The judge then decides whether to entirely scrap the monetary terms or, in its place, administer community service.
Although not stone-written, an unpaid $12 fine is usually converted to an hour of community service.
What if Ineligible Felons Register to Vote?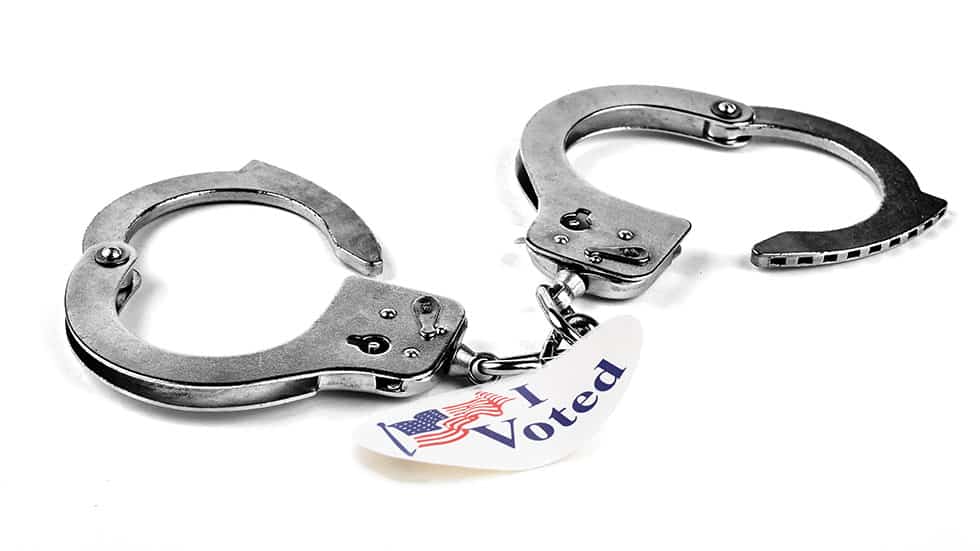 During voting registration, you will be made to sign an affirmation that you have no felony convictions or that you have regained voting rights — after satisfying necessary legal requirements.
According to some state laws, entering wrong information during registration is a third-degree felony. Although it is hardly ever enforced, it is enforceable. This felony offense is almost always overlooked because many people are unsure of the correct status and details of their voting rights. So, entering wrong info in the voter's form may not seem a good enough reason to charge a person.
Read also: California Felons Voting Rights