How to Get a Job With a Felony Drug Conviction: Life is structured on myriads of mysteries and its victims are always brutally treated. In fact, when some people innocently fall into the wicked traps of life, in most cases, it signifies an end to their destiny and worthwhile living. That is the case of those with a felony drug conviction in most cases. It is always extremely difficult, depressing and tiring when ex-felons set out to look for a job. Employers will not listen to whatever led to the problem.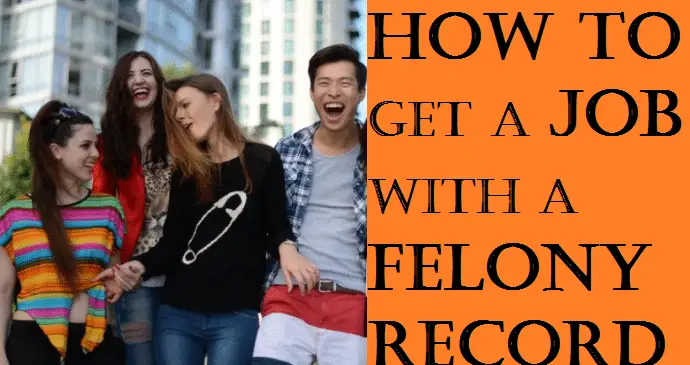 However, this is not usually the case for all employers; some still listen to your stories. This post is not to tell where you had missed it as an ex-felon; let bygones be bygones and then, focus on what life has to offer at this point in time. There are many opportunities for you as a drug convict ever than you can imagine. Read through this piece carefully and be totally liberated.
Reasons why it is Always Hard for you to Secure a Job as an Ex-Felon
This is usually a point of reflection in the lives of ex-drug convicts; when they give their best shot at every job and it ends up in the negative, depression sets in and in most cases, it translates in regret. But the point of discussion is why are people very reluctant in considering ex-offenders during job placement? No matter what might have led to your conviction, whether you abused the drug, sold it or you were just a victim of a situation, the belief of every outsider is that you're still under the influence of the hard substance.
Once employers sight their eyes on your felony record as being 'yes', they become unnecessarily nervous and your chances of being hired becomes extremely low. Even if you have been to the rehab and you've fully recovered since your interviewer doesn't know you personally, they will consider it as not being safe to employ you to their organization; they will rather engage someone without any record of a felony.
This should not be taken personally as it has nothing to do with your expertise, work ethics or even demeanor. The only reason is that you have a felony drug conviction and they are not ready to take the risk of offering you an opportunity in their establishment.
Fortunately, there are many opportunities for you despite your record of felony drug conviction. Although it may not necessarily be the conventional eight hours a day job, but you will surely have something to pay your bills.
How to Get a Job With a Felony Drug Conviction
Areas of Job Opportunities for People with Drug Conviction: What I want to reiterate is that there are many places you can work even as an ex-felon. Sometimes, it may not be the usual office work but works that demand some personal skills and traits.
Here is the list of places you can find work as an ex-drug offender:
These are the closest people who truly believe that you've been to the rehab and can now work. Most probably, they have contacts and connections that can land you a job. Never keep everything to yourself. Speak to people about your hunt for the job so that they can always help out. Your family members will be the most willing set of people to hire you because the most hindering factor against you is the misconception that you might not have fully recovered. However, they are close to you and can attest to the fact that you are no longer drug dependent.
A friend is a person who stands by you come shine, come rain. They are always dependable and will go any length to hold you up while falling. Having good friends is a great opportunity to being hired. It is more helpful when the friends are entrepreneurs as they can easily engage you or even make a recommendation to another person, testifying to your full recovery.
There are specific companies that hire ex-felons from around the world. They have modalities in place and give you the opportunity to work with them. You can always check out this list of companies who have open minds towards felons.
This is surely a good place for you to start. Our result check of jobs being posted on the site reveals that they are short-term jobs by young businesses who may not have the luxury of conducting a background check on their prospective employees. So, you can always check here for openings that match your personal skills.
5 Proven Methods to Get a Job with a Felony Drug Conviction
It is not always easy for felony convicts to find a job; it becomes more herculean if you were convicted of a drug felony. Our society is structured in a way that once convicted in this kind of crime; doors of opportunities are shut against you. As said earlier, never give up if you have a felony on your record while hunting for a job.
Below are proven steps you should take while searching for a job with a felony drug conviction:
Carry out necessary research beforehand
Before you go for any interview, be sure you know everything that is written in your records and you can defend everything without blinking. If you have a felony on your record, do not tell lies to the interviewers; be open and sincere about how it all happened. Remember that if you deceive them and they later get to know, they will not consider you again.
Don't involve in intentionally depressing endeavors
It will be wise for you if you can eliminate non-starters from your list; you need not waste your time applying to some companies and organizations, they will not give your records a second-thought. Do not apply for jobs where your felony drug conviction will be the first point against you, rather search for jobs where they most importantly care about your skills and personal demeanor before talking of the unfortunate aspect of your life. For instance, do not bother applying for a job as a classroom teacher or even a financial advisor, they are simply the 'eternal odd ones' for you.
Some few years ago, the government came up with the idea of sparing some organizations of the payment of tax so as to employ ex-felons, take your time to look out for these companies; there is surely an advantage for you. However, you should know that the tax break is given only for the first year of release after being convicted.
Also, you should focus more on up-and-coming local businesses instead of large multinational companies as they are policy-driven. Their strident rules will erode you of any opportunity of being considered for a job placement.
Seek for help from organizations
You are always frustrated at each point of the interview because there was no one to professionally help you out. You need to settle for the truth that your felony drug conviction has tainted your image and you alone cannot wash it off; you need help. Your first choice is the workforce development centers that are willing to help you secure a job and even establish you as an ex-felon. Always get across to them before going for an interview; they are professionals and they've handled different cases, even more, grievous than yours. They will be able to direct you, give you hint on how to respond to related questions and might even volunteer to follow you there.
The social service centers in your city are not there for fun; maximize the opportunities that stare at you in the face.
Be self-established
Truth be told, this is arguably the best option for you. If the years and time you've wasted in job hunt have been converted into establishing your own business where nobody asks you of your felony records, by now, it would have blossomed. Starting a new business might be demanding, especially when there are no enabling environments, but with dedication, consistency and focus, all will work out well. There is no customer ready to start spending a fortune in conducting a background check on your felony record.
Online freelance opportunities for Felons
This affords you the opportunity to work from the closet of your room. Your felony background has no say whatsoever in securing a job when it comes to online freelancing. You don't necessarily have to be a technology savvy before you can be virtually hired; there are demands for skilled people in different niches such as writing, internet marketing, online research and even virtual assistant.
In order to stand a chance of being consistently hired, you need to set up your profile in a very catchy manner and always place bids on jobs related to your area of expertise. However, be careful of being defrauded by many sites that will ask for upfront payment; it is nothing but a scam. Some of the verified sites you can register your profiles are Upwork, Freelancer and Fiverr. They are all reputable companies you can register with. Read their terms and conditions properly in order to thrive.
Conclusion
Having a felony drug conviction is not an end to life. Although it may be difficult to bounce back and lead an envisioned life after being convicted, but there are always ways around it. Never be bothered of how to live well again. After going through rehabilitation, take your time in reading this piece and there would surely be a turnaround.
See also: Do Trade Schools Accept Felons?