Can trade schools admit ex-felons? Well, this is a commonly asked question whether trade schools and vocational colleges can accept to enroll people who have been previously convicted of crimes. Imperatively, trade schools have programs that can be taken by felons. Note that if you are an ex-convict, nothing should deter you from making your future better. Your past does not hold the key to your future, so if you are determined and ready to work hard, yes you can write (or re-write) your own destiny.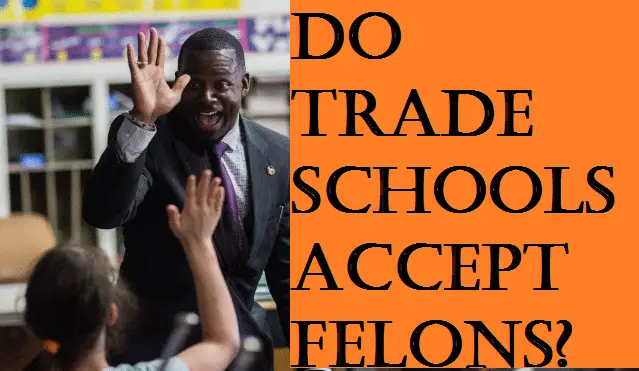 Enrolling in trade school as a felon is one thing, but getting employed is a different thing. Getting yourself enrolled in school is not very difficult as many people imagine. On the other hand, people previously convicted of crimes may not get employment even if they have received a certification from a trade school or a reputed community college. It is, therefore, necessary to do some research about the course requirements as some courses require background checks before you are employed in any organization.
Types of Course Programs for Felons
This leads us to the question, "what types of programs are offered to felons by the trade schools?" There are three types of programs namely;
Programs that will require background checks before a felon gets employed
Programs that do not require background checks
Programs that felons cannot enroll in
These criteria are normally used in the admission of felons to community colleges and trade schools. Therefore, you need to do a thorough research before making your choices so that you can pursue a meaningful program that best suits you.
Recommended Reading: Felons And Social Security
How to Get into College as an ex-Felon
First, we are talking about doing a good research and making the most appropriate option for the available offers you can choose from. This leads us to the first step of getting enrolled as an ex-felon to the trade school, which is about finding the correct program suitable for you.
You need to figure out what you need to do; where is your focus? What do you want to do after college? Additionally, grab a copy of the school guidelines on the available programs, read them through as they possess a wealth of information poignant to the direction of your focus.
Secondly, you have to highlight all the positive things you have done within your admission letter. This not only builds your attitude, but also transforms greatly the opinion that the school has about you-because they already know you are an ex-convict. Prove to them that you are a person of good deeds.
Thirdly, you need to pay your school fees or get financial aid if you have financial difficulties. Remember that all is not doomed as governments provide grants and other forms of financial assistance to felons. This is even better if you were convicted before the age of 18 because you can easily get financial aid as quickly as you ask for.
However, the rules of exception include selling or possessing illegal drugs substances while in the trade school. This will end up delaying your financial aid even up to several years from the date of conviction.
Lastly, get better with what others say about you and improve your chances of being accepted in the trade school. Let your parole, former employer, mentor or community chief write excellent recommendations for you and present them to the college you want. This is a sure way to show that you have left your past and you have resolved to change.
Trade School for felons
Trade schools understand that it is very difficult for convicts to get good jobs. However, difficulty does not necessarily imply an impossibility and that's why they have designed best offers in order to get a good job. Here are top six popular courses.
This is among the very popular choice of career courses among convicts. It is one of the best careers commanding reasonable pay and your certification will depend on your conviction. (See HVAC Apprenticeship Requirements)
Felons may also choose to pursue a mechanical course in the automotive industry. The course provides a lot of opportunities for felons outside there and the most important feature is that its certification does not take long to get!
The variations here include automotive training and automotive technology.
Woodworking and Carpentry
This is another interesting career for ex-felons in the construction industry. Notably, no construction can be complete without possibly requiring the services of woodworks. For instance, you can't build a house without furniture like cabinets! Felons have had a successful career in this woodworking and carpentry.
Masons and Construction laborers
This is a variation in the construction industry that is also attractive to felons and pays well. Even though it is low skilled, it doesn't require any certifications. All you need to do is to pass the interview process.
Plumbing jobs can never be very few since every household must experience some plumbing problems one way or the other. Even if technology changes to the moon, we will still need a plumber. As an ex-felon try this career and build an excellent career of its own merit in plumbing. People, however, may not accept to invite you to their residences if you were convicted of theft! That is why you must always make an appropriate choice while you are accepted for enrollment in the trade school.
This is a good career for felons since they do not need to be employed but find their niche in freelancing. Freelancing jobs are among the top paying middle-income jobs today. So if you are artistic, graphics and web design will take you to places. Of course, I would forget other important courses like truck driving and welding that require felons to be licensed and trained.
See also: How to get a job with a felony record
Trade and Community School Professional Programs for Felons
Even though it may be difficult for ex-employee convicts to fit back into the professional system and pick from where they left, trade schools do not bar any convict from undertaking professional courses.
Bookkeeping and general accounting is a business course that felons can take and find themselves gainful employment. There are also a number of agricultural courses like agricultural engineering that are open to felons and does not require background checks with employers.
In information and communication technology, IT technicians and engineers are also common courses that you can be employed. Additionally, you can pursue computer science, math, and engineering courses.
Not All Programs Accept Felons
However, it may seem that trade schools accept to change the future of felons, it is evident that felons cannot choose some programs. Enrolling felons in a sensitive educational, law enforcement and health science courses is impossible. Most countries prohibit convicts from being a teacher, a police officer, an army officer, a doctor or a nurse among other careers sensitive to human existence.
Conclusion
Nonetheless, not all convicts are ready to change and leave their past for the better future. This is what trade schools try to observe in felons before they admit them to their programs. However, for those felons who shows a complete turnaround, determination, and hard work, they have a higher chance of being accepted to the school. The conditions are easy as felons just need to fulfill admission requirements and choose appropriate programs.
The reason is that trade schools believe that the past does not hold the key to the future, it is only a reflection of who you were and the lessons drawn from the past will only help you to avoid future mistakes otherwise they are as good as history.