Do you enjoy watching National Football League games on the weekend? You're not alone. Football is the most popular sport in the United States. When a game is on, you can guarantee that millions of people will be sitting around and watching the game.
However, many people do not understand that some players on the field are actual felons. Did you know that a few convicted felons currently play in the NFL? They do. How many?
Within this guide, you're going to learn more about the NFL players that have been convicted of felonies.
Quick Navigation
The Original Claim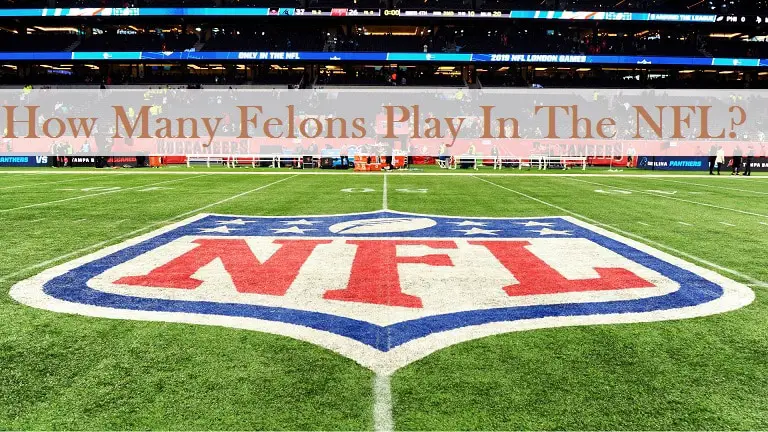 After Colin Kaepernick and others protested during NFL games, some claimed that they were protesting police officers because they were felons.
The original claim argued that more than 870 convicted felons were playing in the National Football League.
The claim has since been debunked since many of the NFL players with criminal records only have misdemeanor records.
Among current NFL players, the most common conviction is for DUI. Nevertheless, this is nothing to ignore since a DUI could easily transform into a more serious case of vehicular homicide.
In addition to this, there have been many NFL players who are felons. However, most of them become felons after leaving the NFL.
General Population Vs NFL
A study showed that the general population had a higher arrest rate than the NFL between 2000 and 2013. The general population had an arrest rate of 4,889 arrests per 100,000 individuals in 2013.
As for NFL players, the total arrest rate was 3,740. During most years, the general population had an arrest rate that was one and a half to two times higher than that of NFL players.
Despite these statistics, NFL players earn millions so many argue that they should live up to higher standards than average people.
Aaron Hernandez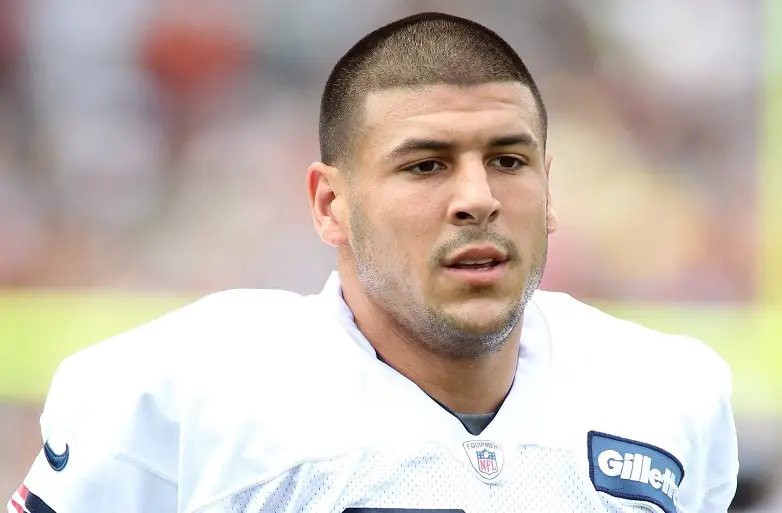 Although a rare case, Aaron Hernandez is one of the most recognized felons to play in the NFL. During the 2010 NFL Draft, Hernandez was drafted by the Patriots in the 4th round.
While working with Rob Gronkowski, the duo became one of the most impressive tight-end duos in the history of the sport.
Hernandez played during Super Bowl XLVI and even completed a touchdown pass. However, the Patriots would lose to the New York Giants with a final score of 21 to 17.
Although he had a bright future, Hernandez would be arrested and charged with murder during the 2013 off-season.
He would go on to be convicted for the murder of Odin Lloyd who was a semi-professional linebacker who had been dating his sister.
After his arrest, he was released by the New England Patriots. He would be charged with a double homicide, only to be acquitted after a 2017 trial.
Nevertheless, he is one of the notable felons to play in the NFL.
Rae Carruth
Rae Carruth is another NFL player who went on to become a convicted felon. He was drafted by the Carolina Panthers during the 1997 Draft.
He would spend three seasons with the team before being found guilty of conspiring to murder his girlfriend who was pregnant in 2001.
On November 16, 1999, Rae's girlfriend Cherica Adams was shot four times outside of his Charlotte home by Van Brett Watkins.
Before her death, Adams called 911 to tell authorities that Carruth stopped his car in front of hers and that another vehicle pulled up beside her vehicle and the passenger shot her. Carruth drove away from the scene.
Adams was pregnant at the time. Although she would die, the baby would survive, but Chancellor Lee Adams would suffer cerebral palsy and brain damage.
Rae would surrender to police before posting $3 million on bail while promising to turn himself in if either victim died, but he wouldn't.
He fled to West Tennessee where he was arrested hiding in the trunk of a vehicle in Parkers Crossroads. On December 16, the Carolina Panthers waived him and the NFL suspended him on December 17.
Other Felons Who Played In The NFL
Unfortunately, several NFL players have gone on to become felons. Many of them committed crimes while being on the roster of an NFL team.
Dwayne Lewis Goodrich who played for the Dallas Cowboys did just that. Goodrich played college at the University of Tennessee under Phillip Fulmer. He joined the Cowboys after being drafted in 2000.
Unfortunately, Goodrich experienced several injuries during his short career. In February of 2003, he was involved in a hit and run that ended the lives of two individuals and was promptly arrested for vehicular manslaughter.
Witnesses claimed Goodrich was driving 100 MPH when he hit and killed two motorists who were trying to help rescue a man escape his burning vehicle on a Dallas freeway.
Goodrich would eventually serve eight years before being released from prison in October 2011. Finally, there is Ray Lewis.
Lewis is best known for playing middle linebacker for the Baltimore Ravens. He played with the team during his entire 17-year career.
Ray would eventually plead guilty to obstruction of justice in relation to the stabbing deaths of two men in 2000. The next season, he would be named NFL Defensive Player of the Year.
After a Super Bowl party, a fight occurred between Lewis, his companions, and another group. During that fight, Richard Lollar and Jacinth Baker were stabbed to death.
Joseph Sweeting and Reginald Oakley would be questioned by police, and the three men would be indicted 11 days later.
The white suit Ray was wearing that night was never found, and some argue that the suit was dumped in a garbage bin outside a nearby fast-food restaurant.
Ultimately, the murder charges against Lewis were dismissed, but he would need to testify against Oakley and Sweeting. He also pled guilty to a misdemeanor charge of obstruction of justice.
How Many Felons Are In The NFL?
How many felons actually play in the NFL? Although there have been many NFL players convicted of horrific crimes, many are kicked from their teams before their convictions.
In addition to this, many NFL players have misdemeanor convictions on their records.