The TWIC Card background check, also called "security threat assessment" is part of a measure to minimize security risks at ports, military installations, offshore facilities, and vessels.
The Transportation Worker Identification Credential, better known as "TWIC," is utilized by the US Transportation Security Administration (TSA) and United States Coast Guard (USCG) to monitor workers in high-security areas in maritime vessels and establishments.
Workers must apply and obtain a TWIC card to be permitted access to government maritime ships and establishments. TSA utilizes an extensive eligibility process, requiring all applicants to sign a Consent to Background.
TWIC – What Is It?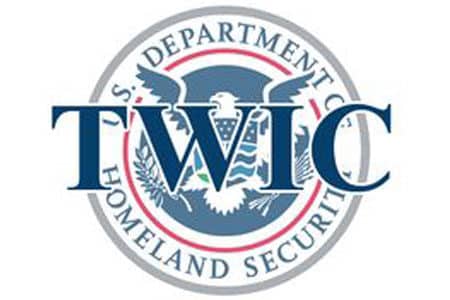 If you are asking this question, you are not alone. Many people are wondering the very same thing that you are wondering right now. That being said, it is also highly likely that you are in the transportation industry because these are the individuals that have to worry about TWIC, hence the name.
TWIC means Transportation Worker Identity Card. It is a card issued by the United States Transportation Security Administration as well as the United States Coast Guard. Anyone looking to gain access to maritime facilities will need TWIC. This can include anything from ships, ferries, dockside warehouses, and port customs offices.
Along with this, anyone that needs unaccompanied access to Coast Guard credentialed merchant ships or transportation vessels will need one of these cards.
What Is Needed To Apply For A TWIC?
Given the significance of TWIC, you can imagine that there is quite a thorough process for anyone seeking to acquire one. These credentials are only distributed to employees after they have submitted several things. They'll have t submit biometric information like fingerprints.
This is not all! The applicant will also have to pass a security threat assessment, usually administered by a TSA officer.
One unique thing to note about the TWIC is that it will contain both a computer chip as well as a magnetized bar that holds essential biometric data. This allows the card to either be scanned or swiped at access or entry points.
TWIC Card Background Check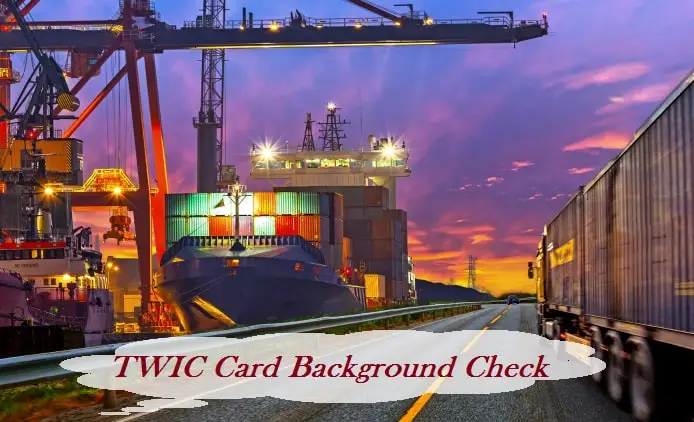 A background check plays a major role in the TWIC qualification process. TWIC card background check include:
State, county, foreign, and city criminal records
Employment authorization
Motor vehicle or driving record
Education history (high school and post-secondary)
Credit history (credit score)
International databases
Terrorist watchlist
Medical records
Disqualifying felony convictions include everything from conspiracy to commit sedition and/or espionage to terrorism to environmental damage to hazardous material transportation violations.
TWIC Card – Who Needs To Apply?
TWIC is a card that'll be utilized by a distinctive class of individuals. It is necessary for several different professions. Usually, it is something that is issued to individuals associated with maritime transportation systems, but this is not always the case. More often than not it is, but not always.
Coast Guard employees are responsible for conducting maritime search and rescue missions as well as assisting lost travelers and handling environmental crises at sea, so they'll certainly need one of these cards.
Coast Guard personnel are also responsible for port security and considered first responders in military emergencies. Coast Guard personnel with a TWIC will be able to protect and oversee United States cargo and citizens.
Most longshore employees spend their days docking ships, loading, and unloading cargo, maintaining ship manifests, and inspecting cargo for damage. They'll oftentimes be required to rely on the assistance of heavy machinery like forklifts, commercial class vehicles, and trucks and trailers.
These employees are critical to the shipment and transportation industries. They are well compensated for this, but anyone looking to become a longshore worker will have to get a TWIC so that he or she can legally inspect and record incoming and outgoing cargo at sea.
As a truck driver, one is responsible for frequently delivering and picking up essential cargo from ports. This usually means that such individuals will need access to a lot of areas where civilians aren't allowed.
In addition to this, these drivers are also responsible for coordinating with port authorities to ensure the pickup and delivery of the cargo.
They'll also have to work in conjunction with these professionals to make sure all the cargo arrives in acceptable condition. When and when the cargo is loaded into the trailers will these individuals be able to start the actual delivery process.
As you can imagine, in order to make all of this happen a TWIC is going to be needed. Any truck driver needing access to secure port areas will need a TWIC.
Read Also: Truck Companies That Hire Felons
Warehouse managers, port authority officials, customs officers, administrative professionals, and computer technicians can all be considered port facility employees along with tons of others.
Anyone that works at the work to ensure the delivery, unloading, and storing of cargo will be considered a port facility employee, meaning they will need a TWIC.
If you are responsible for managing a port and ensuring the productivity of that port, you'll need one of these cards in order to access your office or workspace.
Will all this valuable cargo being stored in one location, it can be enticing for unsavory types. Not only this but there are always individuals looking to import or export illegal items. This is where maritime security comes in handy.
While they might not actually oversee any of the transportation or delivery of cargo, they are essential to keeping port tasks rolling.
They are responsible for protecting passengers, crew, and cargo. They'll be required to occasionally patrol port areas where cargo is stored, loaded, and unloaded, thus they'll need a TWIC so they can access these areas.
Taking Care Of Your TWIC Card

TWIC rules require all cardholders to treat their cards with the utmost care at all times. Unlike some identification cards issued by the federal government, TWICs cannot be altered in any way. All eligible applicants receive their cards, along with a plastic storage container, which must be in use at all times.
Officials prohibit the use of tape or adhesive. Cards are not to be stored in wallets, billfolds, purses, backpacks, or computer bags. TWIC cards are integrated with technology that is negatively impacted by magnetic sources.
Cardholders are not permitted to install their cards on a lanyard, magnet, or key chain. Cards must be stored in a safe area away from UV rays generated by the sun and artificial light sources.
Storing the card in the provided plastic container will ensure it is in good condition, minimizing the need for a replacement before the 5-year expiration date.
Read Also: Can a Felon Get a TWIC Card?