A felon, in layman's term, is a person convicted of any crime concerning felony. One may believe that being convicted of a felony will not give you opportunities for work, but you are wrong. One of the jobs for felons that we are going to focus on is being a security guard. And how to get a guard card with a felony.
First, we should know what a security guard is and what they do. A brief search from Google will give you a definition that a security guard is a person employed by someone, who may come from the private or the government sector.
A security guard's job is to protect the employer and his or her assets from a variety of hazards or risks such as vandalism, an activity not approved by the law, and burglary or theft by administering preventive measures or actions such as patrolling and monitoring the employer's assets.
A guard can enforce the laws and regulations of a business/building that he or she is working in. Aside from that, the security guard's most important job is to ensure the safety of public and private property.
You might also say that a security guard's job is quite similar to that of a police officer. You are right, the only difference is that a security guard's job will depend on who employs them while police officers work for the safety of the general public.
Second, ensuring the safety of your employer and his assets is not an easy job. That is why to be a security guard, you need to pass certain qualifications first.
What are those qualifications to be a Security Guard?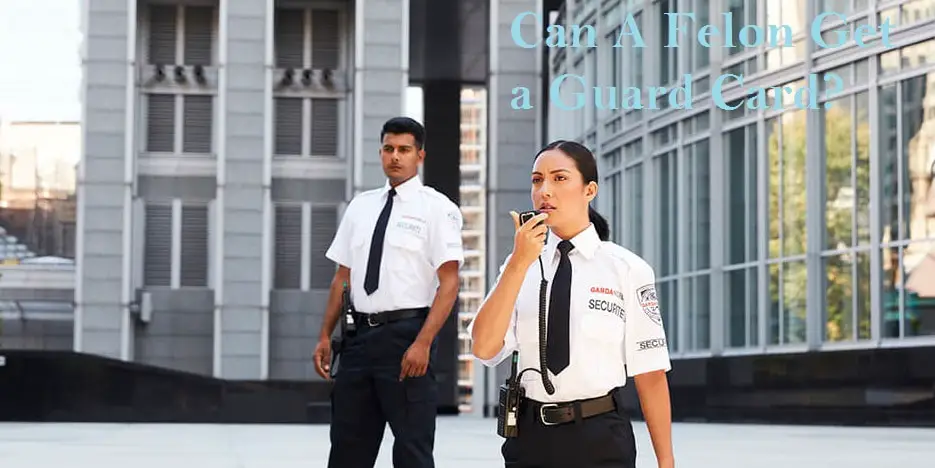 Here are the qualifications to be a security guard in the United States;
Birth Certificate or proof thereof that you are a U.S. Citizen, lawfully you have to be a US Citizen for you to have a job in the United States. Otherwise, you need a working permit or an Employment Authorization Document. Also if you are a non-US citizen, but are permanently living in the United States, you will need a Green Card.
You should be at least 18 years of age. Being a security guard is no work for minors and is a serious job. Also, The United States restricts people under the age of 18 from being employed in occupations that are deemed hazardous or dangerous.
You should be willing to give information or consent to being checked for drug screening, criminal background checks, and fingerprinting that will be done by the Federal Bureau of Investigation or the FBI. This is necessary to find out if you are deemed fit to become a security guard.
You should also have a letter offering a position to be a security guard, from a security agency.
You should also complete an unarmed guard training course approved by your state, this will help ensure that you have learned the skills required to protect the public without firearms when dangers arise.
You should have taken and passed the firearms training course. This will help you have a background in firearms which will help you in being a security guard.
Lastly, you should complete an armed security guard registration form.
Having these qualifications does not mean that you will one-hundred percent be hired as a security guard in the United States, some states require a Guard Card for people to work as security guards. A Guard Card is a license that shows that people who want to be a security guard have passed proper training and certification to work as a security guard.
Obtaining the Guard Card also has some qualifications. First, the applying person should pass an examination and a training course. The training course differs per state but the minimum length of training hours is currently placed at least 40 hours. After finishing the training course, the next step is to do the additional course, typically named the "Power of Arrest". The Power of Arrest course is usually eight to ten hours long.
A link to the Power of Arrest document can be found here at https://www.bsis.ca.gov/forms_pubs/poa.pdf
Passing these series of courses and examinations will permit you to work as an unarmed security guard.
These are also a prerequisite to obtaining the armed security guard card. To become an armed security guard card, an individual must first complete and pass the unarmed security guard card registration above. After that, the individual should take and pass a firearms training course that is accredited by the state you plan to work in. After the series of training, you will need to fill out an application form to be accredited with an armed security guard card.
Can Felons apply for a Security Guard Card?
The answer is YES! But since a felon was formerly convicted of a felony, they should first apply for a Certificate of Rehabilitation. The Certificate of Rehabilitation is a post-conviction certificate that states that a felon is deemed to work and he or she is no longer a threat to someone or anyone.
How do you apply for a Certificate of Rehabilitation?
To apply for a Certificate of Rehabilitation, a felon may apply through the Public Safety Commissioner of their respective state. However, not all states are offering a Certificate of Rehabilitation.
Here is the list of the states that offer the Certificate of Rehabilitation:
Arizona
California
Florida
Illinois
Nevada
New Jersey
New York
Virginia
Acquiring the Certificate of Rehabilitation will give you better employment prospects, fewer obstacles to obtain professional licenses, and most importantly if you are aspiring to be a security guard, the Certificate of Rehabilitation may restore the right to carry firearms. Note that you need the right to carry firearms to be able to be accredited with the armed security guard card.
For this to happen, a security guard agency or service must register their security guard with the Public Safety Commissioner. The Commissioner may or may not approve people convicted of felony dependent on the weight of their previous actions.
For the Commissioner to deny the application because of a previous conviction, the commissioner must first determine if the applicant is not suitable for the position based on the following.
The relation of the crime to the job. For example, if you were once convicted of killing a police officer and you are not applying to become a police officer, chances are you will be denied.
What happened during the Rehabilitation? This will let the commissioner know whether you are a changed man or woman. This will help the commissioner decide whether you should be given the Certificate.
Time after the sentence was done or completed.
However, the law states that felons convicted with the following will be declined.
Serious Felony
Sexual Offense
Crimes Concerning a Person's Honesty and Integrity
The need for a Certificate of Rehabilitation is not required in all states of America. For one, a small number of states do not require a license to work as a security guard, such as Kentucky and Maine. However, most of the states require a license to work as a security guard, even as an unarmed security guard. Also, a few states do not accept felons to work as security guards, such as Nevada, Rhode Island, and Tennessee.
It is better, to be honest, by disclosing a felony on your resume (if you were once previously convicted) if you are applying to become a security guard. This is important because security guards are background checked before being given the job. Also, if the FBI found out during the background check that you were once convicted of a felony but you chose not to disclose it on your resume, you will be convicted of fraud which could result in you being back in prison as falsifying documents is a crime.
Securing a guard card for a felon might be a big challenge, but it lets you have a window of opportunity to work as a security guard. It may be hard, but it leaves a door wide open for more opportunities to come. Being honest in your records may help you secure a guard card. Also, documenting your educational attainment, courses studied may help and be an essential difference for you to be accepted in the job that you're applying for.
After all, being a felon doesn't mean that there would be no more opportunities for you in the future. Everyone makes mistakes and people can change for the better. No one wants to be remembered for crimes or wrongdoings that they have done in the past. People are not defined by setbacks but are defined by how we rise from those falls. Having your families, friends, and acquaintances to support may serve as the inspiration you need and become the game-changer in your life.