Are there companies that don't drug test in 2023? Illicit drugs are difficult to resist 100 percent of the time. While some people are strong enough to say "no", others are easily persuaded. Whatever the case may be, most American employers are not interested in hiring drug users or drug addicts.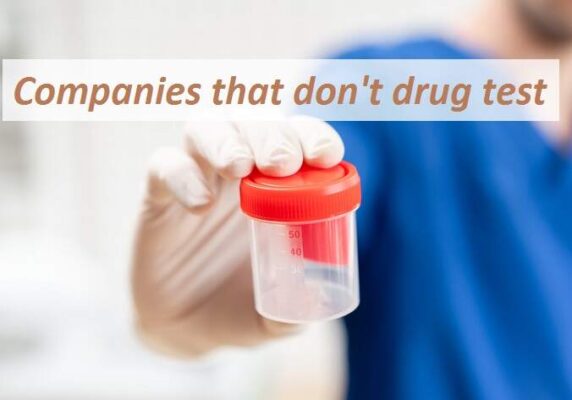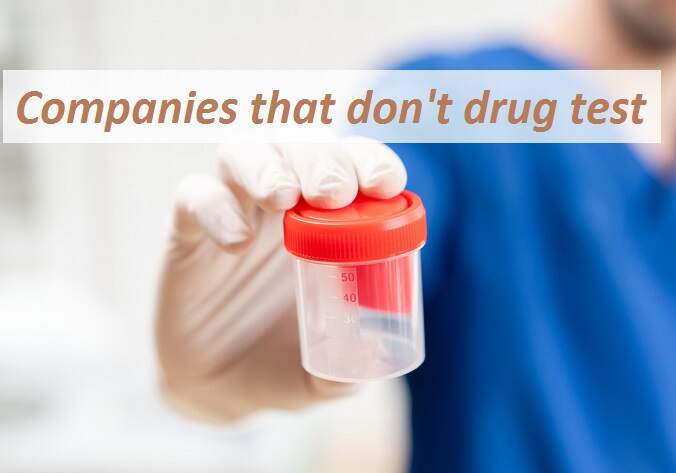 There are just way too many risks involved when it comes to employing people who frequently utilize illicit drugs. Employees who utilize illegal drugs are at a higher risk of workplace injuries, compared to clean workers.
American companies strive to maintain zero workplace injuries from month to month. Maintaining a drug-free workplace offers a broad range of benefits, with the main one being fewer new worker's compensation claims. It can also help minimize worker's compensation and Errors & Omissions insurance premiums.
Conducting Job Searches Frequent Illicit Drug Users
Many people opt to utilize illegal drugs for a broad range of reasons. These reasons include improved mood, better performance under pressure, addiction, less pain, combat anxiety and depression, more confidence, and easier interaction with people in rank.
It is not unusual for frequent job users to minimize dose or frequency to increase their odds of passing a pre-employment drug test.
Others are not willing to take the drastic route, which is why they only apply for available positions with companies not known to conduct pre-employment drug testing.
It can definitely help to know what you are up against right from the get-go. Depending on the importance of a job for you and your family, it may be in your best interest to take the drastic route.
Otherwise, your only employment options will be companies that do not have a pre-employment drug testing protocol.
Why American Employers Are Choosing To Not Conduct Pre-Employment Drug Testing?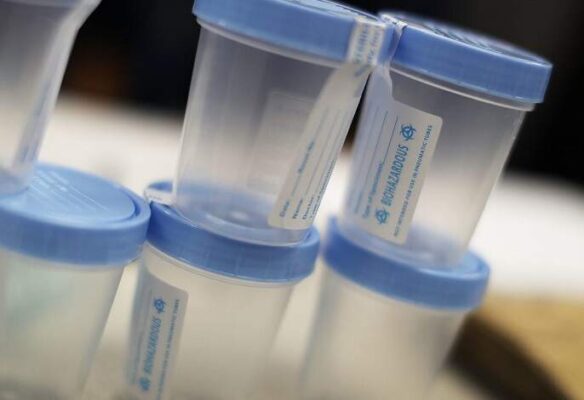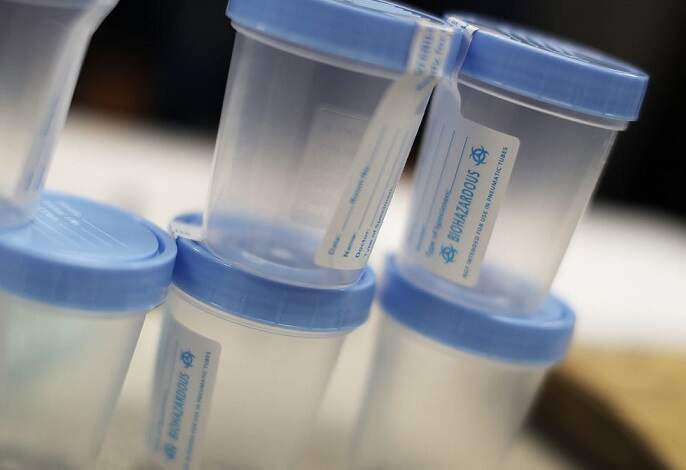 There are several primary reasons why some US employers are turning away from pre-employment drug testing.
One of the main reasons is to reduce hiring expenses, which includes new-hire training, background checks, job interviews, applications, and recruiting.
When you consider the expense for each component that makes up the hiring process, it is easy to sympathize with employers choosing not to run drug tests.
Employers reported more than $3 billion in pre-employment drug testing expenses. Eliminating these expenses could help some employers report a profit, instead of a loss at the end of the year.
Criminal Records And Job Searches
Searching for an available, suitable job is bad enough. Add the fact, you have a criminal record, things can go downhill fairly quickly.
Evidence reveals people living in the United States have enough arrest records that could potentially circle around the earth three times. These arrest records vary between felonies, misdemeanors, and criminal traffic violations.
There is no doubt, offenses are an unappealing sight on a criminal record. Even worse, criminal convictions, especially felonies. Most American employers are willing to overlook some misdemeanor charges.
However, this rarely applies to felony charges. Knowing what you are up against will definitely play in your favor when performing job searches.
List of Popular Companies That Don't Drug Test in 2023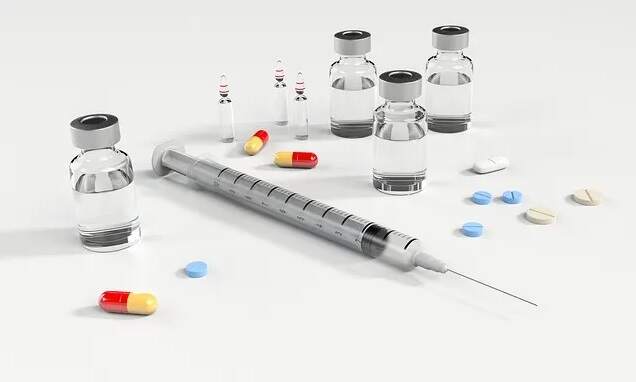 What places don't drug test? These are jobs that don't drug test to the best of our knowledge.
Apple
Apple is one of the most notable technology companies in the United States. It is also one of the top US employers, employing around 2.4 million workers. While Apple is an Equal Opportunity Employer "EOE".
The company is open to not conducting pre-employment drug screening. However, this only applies to specific positions that do not involve safety. Software engineers, threat intelligence analysts, applied biomechanics researchers, managers, and IOS developers may be asked to submit a sample for a pre-employment drug test.
While a customer support representative, retail specialist, bookseller, and warehouse worker may never be asked to take part in a pre-employment drug screening.
Google
Google is easily one of the top tech companies in the world. Although it is best known for its search engine, it offers a wealth of products.
One thing to remember about Google is that the company is based out of California where recreational cannabis is legal.
As a result, Google has been forced to adapt to modern times and mindsets. Google works hard to find the most innovative workers.
Therefore, it is sometimes willing to hire workers without drug testing. You're likely worried that a positive drug test is going to ruin your chances, but it shouldn't.
Get a job at Google and your drug test may not matter.
Read also: How To Dispute A False Positive Drug Test?
Chipotle
Chipotle has some of the best burritos in the world. In addition to this, it is one of the top employers. Today, it has more than 64,000 workers at hundreds of American locations. According to some sources, Chipotle doesn't drug test its workers.
Although you've likely never thought about getting a job here, you should. The company constantly ranks as one of the best employers in the country.
It offers a handful of great benefits, including health insurance, bonus programs, and education perks. You'll also find that Chipotle has taken steps to use sustainable ingredients when it can.
Anyone who needs a job but doesn't want to be drug tested should consider getting a job with this company.
Microsoft
Microsoft and many other tech companies do not drug test. Microsoft has become a household name by employing some of the most influential innovative thinkers in the world.
Therefore, the company is willing to think outside of the box. If you have the skills and experience, there is a good chance that you can get a job with Microsoft. Plus, you won't be required to take a drug test.
Microsoft has become one of the best retailers in the industry. Combine this with the fact it offers excellent pay and jobs with this company as hotly sought after.
As a Microsoft employee, you'll receive on-campus health access, medical benefits, dental benefits, and vision care benefits. The company does what it can to support its workers and their families. In many cases, new workers won't have to take a drug test.
Whole Foods
Although it wasn't always the case, Whole Foods is now owned by Amazon. It is based out of Austin, Texas, but happens to be one of the most progressive grocery stores in the country.
If you're willing to work hard and put in the effort, you can get a job at Whole Foods without getting drug tested.
Whole Foods is a high-end grocery store chain that offers many great job opportunities. You can work the floor and help customers find what they need. Alternatively, you can stock the shelves in the evening.
Whole Foods offers many great employee benefits, and you won't need to worry about flunking a drug test.
Michael's
Michael's has become one of the best art supply stores in the country. Whether you need a canvas, paint, or brushes, you can guarantee that this store has it. If you decide to get a job with Michael's stores, you can likely avoid the drug test.
The art supplier offers a laidback environment that many workers will enjoy. Besides stocking and checking people out, you can also try becoming a teacher. The company offers a variety of classes, including painting classes, stitching classes, and woodworking classes.
Plus, you'll be able to start working for this company without needing to be drug tested.
Dick's
You've likely visited a Dick's Sporting Goods store at some point. It offers a little of everything, including bicycles, treadmills, tents, fishing poles, and more. If you enjoy these things, you'll love working at Dick's.
Every day, you'll get the chance to sell fishing poles, treadmills, tents, bicycles, and more. You'll work alongside people who love these things as well. As Dick's employee, you'll learn how to sell products and help customers.
Another perk is the fact that the company usually doesn't drug test. As long as you pick an entry-level position to apply for, you can likely skip the drug test.
PetSmart
PetSmart is one of the country's biggest retailers. It is a popular store among pet owners because it sells pet food, toys, and more. Plus, the company accommodates pets of all species.
Once you've decided to apply for a position at PetSmart, your options will be plentiful. You can get a job stocking or operating a cash register. Alternatively, you can help people find out which pets are right for their families.
The company also hires groomers and pet trainers. You'll be able to learn on the job so you can take those skills with you when you leave. Anyone who loves pets should consider getting a job at PetSmart.
PetSmart doesn't drug test for many positions. PetSmart is one of the most rewarding careers, allowing people to work with their furry friends. There is also plenty of room to grow within the company.
Target
Target is one of Walmart's bigger competitors. Many agree that Target is the progressive sister of Walmart. Over the years, it has taken steps to incorporate progressive agendas into its operating procedures.
For instance, the company rarely drug tests new workers. It tends to drug test loss prevention and warehouse employees, but not retail workers. You'll also appreciate that Target offers higher wages than Walmart and other competitors.
As a Target employee, you'll receive an employee discount that can be used for groceries, electronics, and other items. If you're trying to get a job as a stocker, cashier, or customer service representative, you shouldn't get drug tested.
Conclusion
Some companies don't drug test, but others do. Although the company might not do pre-employment drug tests, workers may still be drug tested at some point. For instance, you might be drug tested once you've been injured on the job.
Alternatively, you may be drug tested before you receive a promotion. Therefore, it is always wise to get clean. If you're going to hold a good job, get clean and avoid potential problems.