Many felons don't even realize all the opportunities available to them when they are released from prison. Just because you are a registered felon doesn't mean that you can't further your education. If you have the resources and abilities, you don't have to jump right back into the employment sector.
You can take the time to further your education so that you can acquire a higher-paying job. There are a number of colleges available that provide financial aid and student assistance to felons.
Ex-Offenders Seeking Higher Education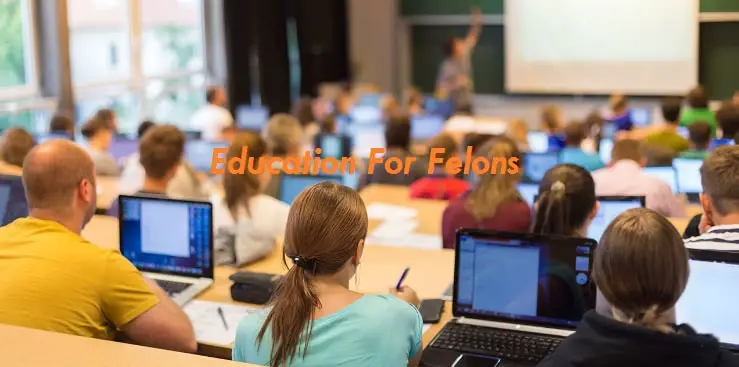 Everyone needs higher education to get ahead in the world. That being said higher education is extremely important for ex-offenders. It is an excellent way for them to re-enter their community and live a productive as well as fulfilling life.
Even though higher education is so important most ex-offenders don't know where to start. That's okay and that is exactly why this guide was designed. Returning to school after prison can be quite the task, but this guide will walk you through the process as well as review the financial aid available for you.
How To Get Started: Education For Felons

It is true that all ex-offenders are going to share the experience of being incarcerated together, but it doesn't mean that their educational backgrounds and needs are going to be the same. Some ex-offenders will have different needs based on their educational background.
For instance, some ex-offenders might already have a high school education but are lacking in the college department. Some ex-offenders might not even have a high school diploma or a GED.
It really doesn't matter what your education is, you just need to know that it is possible to get that higher education that you are seeking. The best thing to do is to evaluate your current education and proceed from there. Just because you don't have a GED or high school diploma doesn't mean that higher education isn't available to you.
A re-entry student will be an individual that was once enrolled in school but abandoned their academic journey. Maybe, you were once enrolled in college but dropped out because you got pregnant or maybe your conviction is the reason that you had to quit.
Whatever the situation is, this means that you have finally decided to pick up the threads and complete the requirements to obtain your degree. Keep in mind that there are some colleges that will classify students as re-entry students if they weren't full-students in the past five years.
Just because you didn't obtain a high school education or don't have a GED doesn't mean that you can't enroll in college. In fact, you can register under nontraditional student status. Many colleges offer these types of programs and they loosen admissions criteria by offering credit for life and work experiences.
They might even allow the option of testing out of certain classes. With a basic knowledge of math or English, you might be able to skip a few class and get a few credits ahead. This will speed up the entire process of obtaining your degree. Here, we list some of the best college degrees for felons.
Southern New Hampshire University
Southern New Hampshire University is an excellent school for ex-offenders that offers more than 200 degrees. It is literally one of the largest virtual colleges in the nation. There are a number of flexible graduate and undergraduate degrees available for every student.
Academic support is available where it is needed and the school even makes transferring credits easier than ever so that working individuals can speed up completing their degrees.
Purdue University Global
If you are looking for a world-class education that was specifically designed for the working individual, you simply cannot beat Purdue University Global. The school established a virtual arm in 2017 and they now offer over 180 different online programs.
The ExcelTrack really stands out for most students because it allows you to accelerate degree completion by earning credits for prior learning and work experience. This is something that will greatly help speed up degree completion.
Ashford University
Ashford University might be one of the smaller virtual colleges, but it doesn't mean that they still don't have a lot of offers. In fact, they offer eighty-plus online degrees that vary from accounting to health and education. With such career-relevant skills in these fields, you won't have a problem integrating back into society and finding a job.
There are students from all walks of life that are taking advantage of everything that Ashford University has to offer. Some of the most enticing things about the school are that they offer smaller classes with access to support such as tutoring and writing assistance. Not only is the learning flexible, but the tuition is more affordable than ever.
Commonly Asked Question For Ex-Offender Seeking Higher Education
Navigating the murky waters of higher education is difficult for any student, but it will be especially difficult for ex-offenders. This is because the whole situation and your background will create very distinctive challenges that are tougher than normal to navigate.
Three experts by the names of Steve and Dr. Jeffrey Gardere, and Tracey Bowen sat down to answer some of the most common questions that ex-offenders seeking higher education ask.
Is It Necessary To Reveal My Background To Colleges When I Apply? Should I Handle My Disclosure In The Same Manner For Both Online And Traditional Schools?
Yes, throughout your enrollment, you will find that there are many schools that will ask about your criminal background. Criminal convictions usually play a big role when individuals are applying for graduate professional programs.
This is because even with a college education a felony conviction can prevent you from later obtaining a license. You would simply just be wasting your time going through the program and getting the education to only later find out that you cannot legally acquire a license.
Most college applications will ask about prior criminal convictions and you always want to be truthful with your answers. This is true when it comes to both traditional and online schools. This may only help you in the future for the reasons that were mentioned above.
Can Ex-Offenders Be Rejected Because Of Their Record?
Unfortunately, ex-offenders can get rejected, but that does not necessarily mean that the colleges will reject them because of their prior conviction. In fact, in my experience, it is pretty rare to see a college reject an ex-offender because of their record.
Yes, colleges can reject applicants based on their criminal records, but there are very few that do. However, they will probably ask for detailed personal statements, letters from probation officers, and character references.
What Should Ex-Offenders Say About Their Criminal Convictions In Their Admissions Essay?
Honestly is always the best policy and colleges are going to respect you for coming straight out and admitting your past mistakes.
It is more important than ever to show that you have grown from your mistakes and turned your life around for the better. Own your mistakes, control them, and show that you are a more empowered person. Do not let anyone ever turn your past mistakes into a negative. Think of it as a learning experience.
I would only suggest addressing the conviction outside of the essay unless the essay specifically asks for such information. Your conviction is not a defining time in your life and you should not be defined by that one mistake that you make. However, if the conviction adds to the compelling message that you are trying to convey then it might be worth mentioning in the essay.
How Should I Talk About The Conviction If It Comes Up During The Interviewing Process?
It is always best to talk about what you have learned from the experience. Explain to the interviewing parties how you are a different person and in a different place because of the conviction. Keep in mind that there are many different convictions and they can be viewed in different lights by different individuals. For instance, being drunk in public and getting into a fight is not entirely the same thing as violently attacking someone.
It is always best to be humble and remorseful about your experience. However, you also want to show strength at the same time. Explain how the conviction was a complete eye-opener to certain issues that needed to be addressed in your life. It doesn't even hurt to explain how you are still addressing such issues with continued counseling.
I would recommend above all being honest and straightforward. Never go into the process of making excuses for the conviction. It was your choice alone and it was something that you did. Highlight how the conviction has brought you to make positive changes in your life and avoid using general statements like, "I've learned my lesson."
How Does College Housing Work For Ex-Offenders?
It is entirely possible that you could be granted student housing as an ex-offender, but this will greatly depend on the type of conviction. Sexual offenses might cause you to be discounted from such amenities.
Yes, you can live in college housing if you are an ex-offender, but you will have to undergo a background check. The theory behind this is that it helps make the campus safer if the college knows the nature of your prior conviction.
How Can Ex-Offender Adapt To the Difficulties Of College Life?
College life is difficult for any student, but it will be even more difficult for the ex-offender. However, that doesn't mean that you can't adapt and overcome such challenges. The best way to tackle this task is to develop a reliable support system.
Surround yourself with positive individuals and students that can help you overcome such challenges. It also helps to focus on time management skills and self-care. If you are coming out of prison, you are probably used to a structured schedule and this is the type of mind frame that you should stick to. Set aside the time to study as well as making sure that you have the right physical and mental releases to keep you grounded.
It is extremely important for ex-offenders to maintain a relationship with someone that can help them achieve the right balance in their lives. Talking things through and working out problems with professionals can go a long way to help you create an effective and structured schedule.
Such individuals that can help you with this are psychologists, social workers, and even therapists. It is also important to stay in constant contact with your parole officer. However, the most important thing is to avoid the places and individuals that lead you down the wrong path in the first place.
This would be like a drug addict getting back in touch with his old crew and trying to stay clean at the same time. It would be virtually impossible.
What Can Ex-Offenders Do Get The Overall Best College Experience Possible?
If you really want to get the most out of the college experience, you will want to take in the whole college experience. This means don't just attend classes and go about your daily business. Get involved with clubs and the student body.
Try to envision and see the whole experience through the eyes of a student. It will even go a long way if you get involved in some of the social services available on campus. Keep in mind that most of these services are typically free so financial concerns will not be an excuse.
The best and most important thing to do is to get involved in campus life. Take the time to pick and few clubs and groups that are of interest to you. Choosing activities that are related to your major can be a huge plus on a job application and it will show that you are integrating back into society.
Being social is important because it will help you develop a sense of belonging. You will feel like you actually deserve to be back in society. Most ex-offenders never get over the feeling that they are not worthy of being placed back in society.
Are There Any Special Programs Available For Ex-Offenders?
Most colleges will offer students a number of resources that will help them with their education. And, ex-offenders are not seen in a different light. Yes, there will be a variety of resources available to help you throughout your entire experience.
Yes, there are tons of colleges that offer programs like tutoring or mentoring. Along with this, there are also grants, stipends, and free bus passes available for ex-offenders. Just keep in mind that these types of programs might not be available with every college.
This is why it is important to check with the Dean of Students of the Financial Aid Office ahead of time before enrolling. If you are going to need such assistance to get through college then you want to make sure that these programs are offered before you join.