McDonald's was founded by Maurice McDonald and  Richard McDonald in 1940. The headquarters of this restaurant is located in Chicago. McDonald's has grown from being a single restaurant into a worldwide franchise. Currently, McDonald's is the largest restaurant franchise in the world. It has more than 37,000 stores and 1.7 million workers across the world.
Apart from being known for its food, McDonald's is known by job applicants as being an easy employer, especially for entry-level positions. To work in McDonald's, you will need to approve a background check. This background check will help the hiring manager decide if you should be hired. Significantly, McDonalds Background checks are not as detailed or extensive as the checks conducted by many other companies.
In this article, we will provide you with a list of everything you should know about the McDonald's background check. Then, we will explain the type of information you can find on the background check and what the hiring process involves. Lastly, we will give you tips on how to improve your chances of being hired to work at McDonald's.
All You Need to Know About McDonalds background checks
1. McDonald's requires your consent to run a background check. When you attend the interview, the hiring officer will give you a background check form to fill. At the interview, you will also need to provide proof of your Identity. A commonly accepted proof of identity is the National ID card. However, if you are a foreigner, your driver's license or passport may be accepted. In some McDonald's branches, you will need to provide 2 proofs of your identity.
2. The background check is free. Applicants are not charged for the checks conducted by McDonald's. However, if you choose to run a background check on yourself first, you will be charged for that.
3.  It takes a few days to receive the background check report. Applicants and current employees have stated that it took 1-3 days before they received feedback on their background check.
4. The McDonald's background check provides information from the last 5-10 years. A few applicants stated that the information on their background checks was for the last 4 years.
5. Mcdonald's background checks are Nationwide not state-wide. Regardless of where you went to school, had a job, or committed a crime, this data will be available in the background check report.
6. The McDonald's background check does not include a credit check. Some companies use a financial history report to assess a job applicant's character and sense of responsibility.
7. The background check will help the McDonald's hiring officer identify if the information on your application is false. If it is discovered that you lied on your job application form, your application will be denied.
Significantly, some McDonald's stores do not conduct background checks.
Read also: Does Amazon.com Conduct Background Checks?
What information is available on the McDonald's background check?
Employers (McDonald's) conduct background checks so that they can determine if the job applicant is a potential employee of value or safety risk. The information on the background check includes:
– Criminal history: The background check will show if you have any felonies, misdemeanors or arrests on your record. Importantly, being a felon does not mean you will not be hired by McDonald's. Rather, McDonald's may pass on hiring individuals that may risk the safety of customers and employees.
Convictions for violent crimes, sex-related crimes, and drug-related crimes can affect your chances of being employed at McDonald's.
– Driving records: If you are applying for a job that involves driving, your driving history will be included in the background check. This check will show how long you have been driving and the status of your license. Furthermore, the check will highlight any moving violations or accidents you have had since you started driving.
– Educational records: Usually, getting a job at McDonald's does not require a university or college degree. However, if you are applying for a managerial or professional position, the background check will include your educational history. This will help to confirm that you are as qualified as you say.
The McDonald's hiring process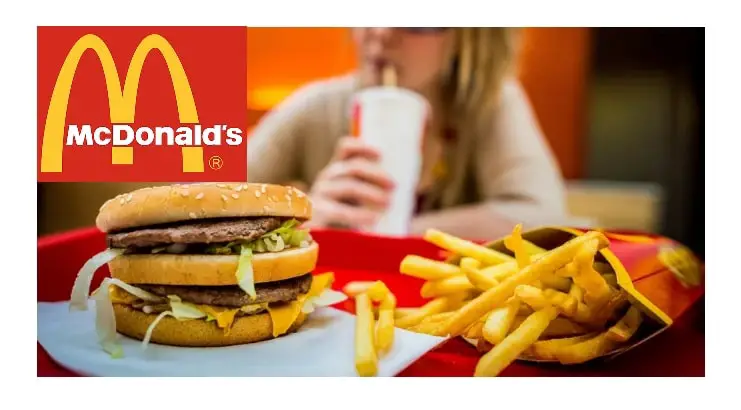 Below are the steps involved in applying to fill a position at McDonald's:
– Submit your application
You can visit the careers page on the McDonald's website and fill the Job application form. However, if you have a McDonald's around you, you can go into the store to fill an application.
If you fill the application form online, you will have to answer a detailed questionnaire about your personality. The questionnaire will allow the hiring officer to understand your character and decide if you are a good fit for the McDonald's brand.
–  Attend the interview
After you have submitted your job application form, you will receive a call from the regional manager. Over the phone, the regional manager will fix a date for the in-store interview.
Go to the interview with 2 valid means of identification and all your necessary documents. You will be interviewed by the hiring manager. Some questions you can expect include:
– Do you have any experience working in the fast-food industry?
– Have you worked in a fast-paced environment before?
– Why would you like to work at McDonald's?
–  What are your strengths?
– What are your weaknesses?
– Why should we hire you?
– Do you have any long term goals for working at McDonald's?
– Where do you see yourself in 5-10 years?
You should prepare to answer the questions listed above before going for the Interview.
After the interview, you may be given a background check form to fill.
– Wait for a response
After the interview, the information you have provided will be analyzed. Your background check report will also be assessed to see if you should be hired. If you are qualified for the position, you will receive a call from the manager telling you when you can resume.
You can complete the hiring process and receive a response concerning your application in about 1 week.
Tips that can improve your chances of being hired to work at McDonald's
– Be honest on your job application: When filling your job application form, be truthful. Your application is more likely to be denied if you are dishonest.
– Dress well to your interview: Regardless of what position you wish to fill in McDonald's, dress professionally when going for your interview.
– State your flexible schedule: During your job interview, explain to your interviewer that you are willing to take additional shifts or work different hours if possible.
– If allowed, explain the circumstances that led to your conviction: If the interviewer asks about your criminal record, respond truthfully. Explain why the situation occurred and highlight how you have changed. If you have character references, you can provide the interviewer with their contact information. Furthermore, if you have volunteered at an organization, you can provide the organization's contact information.
We hope this article has been useful to you. If your application to work at McDonald's has been denied, we recommend that you wait for 6-12 months before submitting another application.
Read more: Does McDonald's Drug Test?