The trucking industry is among the industries with a high employment rate. This industry is well known for its attractive payments offered to truck drivers, and in recent times, they in high need of Truck drivers. These drivers are highly needed for transporting various goods from their manufacturers to other places.
It is a well-known fact that not all companies provide a second chance for ex-felons to take on some responsibilities, as some companies require that their employees should have a clean record. This is mostly due to the fact that they want to keep their reputation safe and ensure that they hire the right persons. The issue of employees providing details of their past records is not something they can lie about, as these companies conduct background checks on their prospective employees.
However, the trucking industry is among those industries that provide second-chance truck driving jobs for ex-felons. These second chance trucking companies have different employment policies, as some of them do not hire ex-felons while some of them do. Even those trucking companies that hire ex-felons, also have various policies on hiring them. Some of these second chance jobs would require that ex-felons should have a limited number of committed crimes, and must have served their jail term some number of years ago.
Second Chance Truck Driving Jobs
Here is some second chance truck driving jobs for ex-felons, in the trucking industries. One of the easiest trucking companies to get hired is listed below as well.
Qualified truck drivers are offered jobs in this company, and ex-felons are provided with a fair chance to also work here. Britton Transport is a trucking company provides safe and secured transportation services all across the United States. They transport various cargoes including foodstuffs, building materials, steel, general commodities, etc.
Working in this company comes with a lot of benefits, which include life insurance, paid medical premiums, dental insurance, vision insurance, DOT physical, and 7 days of vacation after working for a year.
Work schedules in this company are created in a manner that allows drivers to enjoy some free time, as they try to build jobs to be quite flexible. The payment package is attractive, and they also pay according to the length of the experience the workers have.
In order to support workers, this company provides $175 weekly advance and they also provide training for those who had been away from the trucking industry for a long time.  However, workers are expected to have a Commercial Driver's License.
---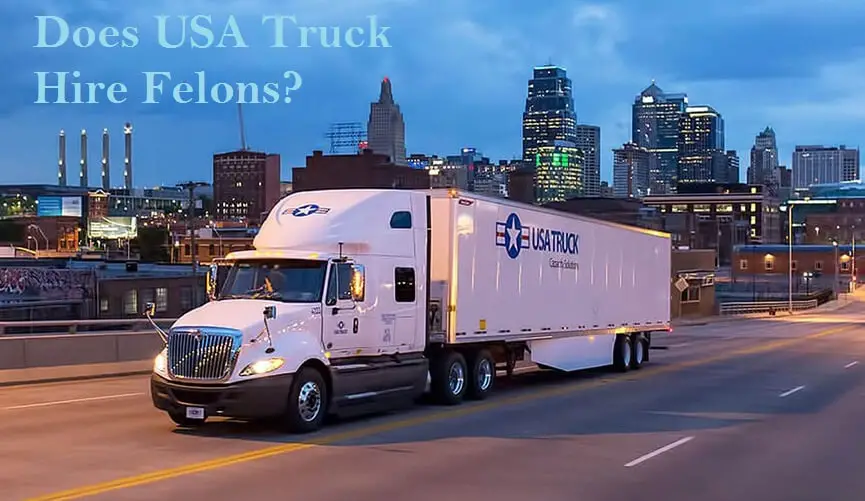 As a certified trucking company, USA-truck is well known for offering trucking careers with high payment packages. They also provide a fair chance of employment for ex-felons, offering them second chance truck driving jobs. With their good reputation of transporting goods place to place and ensuring the safety of drivers, this is among the best place to work as a truck driver.
The company was established about 35 years ago, and they currently have over 20,000 commercial driving vehicles. In order to work as a driver in this company, you are required to be experienced and have a class A CDL. This company might also require prospective employees to have a tanker endorsement and some period of experience; a minimum of 6 months experience.
---
Being one of the best trucking companies that offer amazing payments to workers, this company is also known for paying trainees and helping them become qualified truck drivers. One of their excellent characteristics is that they provide qualified ex-felons a second chance as truck drivers in the company, and with several work benefits.
Also, they provide a retirement program that allows employees to have an owned equity. Most of the benefits employees enjoy from this company include medical insurance, dental insurance, life insurance, and paid vacations.
With the excellent trucking equipment owned by this company, the safety of the workers is assured. Most times, this company does not require truck drivers to have any work experience and they create a work schedule that allows workers to have flexible home time. However, workers would be expected to have a valid class A CDL.
---
Carolina Cargo Inc. is among the best transport companies that offer ex-felons a chance to work in the trucking industry. They currently have about 150 drivers, 12 dispatches, and 24 mechanics who work efficiently in transporting various cargoes.
They also provide amazing weekly training for students and allow new CDL holders who are eager to join the trucking industry, an opportunity to gain more truck driving experience.
As a prospective truck driver, this company requires that you must possess a High School diploma or its equivalent and they must be up to 23 years of age. Workers must have obtained a Class A CDL, which must be valid at the time of the job application.
For ex-felons, you must not have more than a chargeable accident which also includes personal vehicle violation, within the past five years. Also, ex-felons should not have a criminal record of major violations within the past five years. More importantly, prospective employees must be physically and medically fit for the job.
The benefits provided by this transport include health insurance, satellite communication, and professional orientations. Other incentives include a 10% salary increment each year until the salary increases to 50%, a retention bonus of $1000 on a per-year basis, and on-time bonus on every trip, and many more.
---
This is a highly reliable company with over 75 years of experience and is known for offering great transport services in the United States. They help improve the standard of living of their truck drivers by providing several benefits. In this company, the drivers are able to choose the division they want to work in, as this company has different divisions which include the Dry freight division and the Refrigerated division.
Hired drivers are provided with their personal driver managers and are provided with great pay packages.  Qualified ex-felons can apply for truck driving jobs in this company, as they are quite fair in employing people with a past criminal record.
---
Hailey's Express Trucking Inc.
Hailey's Express is known for transporting bulk materials and other dry goods from place to place. They offer excellent moving services and are very efficient. This company has a reputation for being fast and delivering goods to the satisfaction of customers.
Driving job offers in this trucking company are opened to all qualified candidates including ex-felons. They hire Class A drivers with a minimum experience of six months. The class A drivers are expected to have a valid class A Commercial Driver's License (CDL), and drivers for the position of the double must have a double or triple endorsement. Hired drivers get a lot of benefits which makes them comfortable with the work.
For local drivers, they have the chance of getting home daily, as there are both night and day shifts that are creating some time off for drivers. Also, for long-haul drivers, there are flexible home times available to ensure drivers get to spend quality time at home.
Furthermore, this company offers excellent payment of about $20 per hour for local drivers and about $0.47 per mile for long-haul drivers. This payment is expected to increase as workers perform their tasks efficiently.
---
RCS Trucking & Freight, Inc.
Established by Robert C. sturgeon in 2002, RCS Trucking provides driving jobs to qualified candidates and also offers ex-felons with second chance driving jobs. As a licensed company, they are known for offering excellent services and are specialized in transporting goods across the U.S. They have four types of fleet operating from their home office/terminal in Bealeton, Virginia.
As a means of ensuring that drivers are comfortable, this company offers several benefits, including health, vision, dental, and life insurance. They also provide an excellent payment package to their workers, with their regional drivers earning between $50,000 to $60,000 per year, and over the road, drivers earning between $60,000 – $80,000 per year
---
Tur transport company offers excellent services to customers. They are well known for hauling cargoes such as metal sheets, building materials, lumber, etc. They ensure that goods transported are safe and make sure the worker operates in a safe condition.
This company offers qualified ex-felons a fair chance for employment while conducting background checks. Workers in this company get to enjoy several benefits that allow them to be home weekly and provides them with safety bonuses. With their attractive payment packages, workers can earn about $1,800 per week.
Prospective commercial truck drivers are expected to have a current Class A CDL, and be up to 22 years old. They are also expected to have a minimum experience of 6 months and most preferably have a tanker endorsement.
---
Summary
Getting a truck driving job as an ex-felon in the trucking industry can be quite difficult, as some trucking companies are strict with background checks. However, there are several other trucking companies that offer ex-felons a fair second chance to join the trucking industry.
Most of these second chance trucking companies offer high payment as well as excellent benefits and incentives to workers. This creates a more comfortable work experience for workers and ex-felons can make use of this chance to re-integrate into society. However, these companies have some varying requirements for prospective employees which must include obtaining a valid Commercial Driver's License.