UberEats is a relatively new food delivery service that helps people order choice meals from their favorite restaurants. Thankfully, the process is remarkably easy – as with ordering Uber ride.
Does UberEATS Deliver to Me?
UberEats brings your order right to customers' doorstep! Yes, they CAN deliver to you.
However, it depends – basically on your location. So, How far will UberEATS deliver?
UberEats is spread across 500 cities in 36 countries across the globe.
Within four years of operations, UberEats has delivered more than 1 billion orders to different addresses globally.
With this widespread presence, the chances are that there Uber Eats food delivery services are available in your area.
Don't take my words for it, though. See Uber Eats delivery locations and confirm is your area is enlisted.
This is indeed a stress-free and fast way to get your choice meal delivered to your doorstep.
How UberEats Work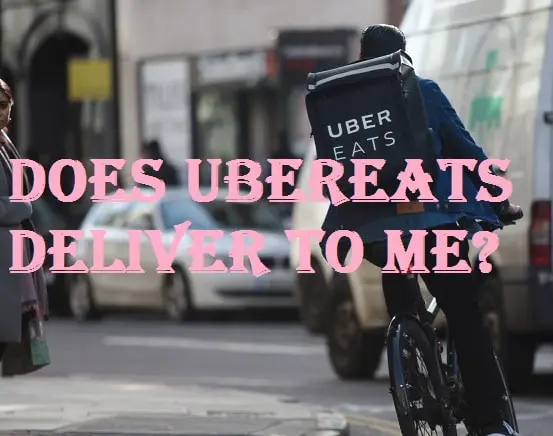 Using UberEats is a relatively fast way to get your cravings right at your doorstep. Here's a quick look at the steps to make an order:
Persons looking to order from UberEats have hundreds of restaurants to select from.
Go to the UberEats app, search for cuisine, or specific restaurant. You may also browse through the feeds for inspiration. If you stumble on what looks good, click on it to add to your cart.
On checking out, your address, estimated delivery duration, and order rate – Including delivery fee and tax – shows up. Go through and make sure everything looks good. On confirmation, click on the "Place Order" tab. And, that's all. Uber Eats charges billing on the card on file, so cash may never be needed for the payment.
The Uber Eats map allows you follow-up on your order. First, the app is designed to notify users when your selected restaurant acknowledges your order, as well as prepping updates.
If the order is set, a registered Uber partner goes to pick it up at the restaurant and deliver it to your address. The partners make deliveries with scooters, bikes, and cars.
When tracking your order, you'd see the delivery agent's photo, names, and track progress displayed on the app map.
On your order, there's a provision for buyers to make special requests. You may want to add certain ingredients, remove a sauce, or ask for special writing with the cake icing. Use the "Special Instruction" box designed for this purpose.
Simply select your order, and your special request will reflect with it. DO well to confirm your request before you place it in the shopping cart.
While Uber Eats may not guarantee you an order adjustment, try to use specifics in your notes, so the restaurant easily grabs and grants your request.
While it's exciting to have your favorite delicacies delivered to your threshold, it's even more fascinating to get a discount on such deliveries.
There are promo codes that grant you access to special offers on a range of orders. The Uber Eats system automatically adds your most recent code on your account to the order.
Do you have access to multiple promo codes? Then, identify the particular code you wish to use and add it last. Thankfully, the system allows you to add and remove any code as you wish.
After your delivery, Uber usually asks for a review. Dropping a review with your app can be pretty easy. Uber Eats and Uber Ride apps have a similar rating system.
However, Uber Eats allows you to rate both the restaurant and the delivery. You can drop reviews on your experience with a specific order by touching the thumbs up or thumbs down icon.
Although the reviews are anonymous, the overall ratings are sent as feedback to the partner restaurants for service improvement.
After a review, you are free to tip the delivery partner. UberEats allows customers to leave a tip within seven days after order delivery. The app offers a preset list of tip amounts for easy tipping. Just touch on a suitable amount, and the deduction is made against your account.
Take note that Uber Eats partners are not entitled to any tip – it's just a little of way appreciating, perhaps, an impressive effort of your delivery partner.
Related: Can You Pay Cash for Uber Eats?
The FAQ on Does Uber EATS Delivers to Me

Does my delivery partner expect a tip?
No. It is neither required nor expected. However, you may rate your experience on every service delivery – as with Uber Ride.
What if something comes up on my order?
If by any means, a problem occurs on your order, contact Uber Eats for assistance. You can reach them through the apps and relate your concerns.
What if I have an allergy?
Statistics say about 32 million Americans have a form of food allergy. Uber Eats understands this too. They provide allergy-friendly filters to make it easier for persons with dietary restrictions or those with allergies to make suitable orders with Uber Eats.
Wrap Up
Primarily, Uber Eats simplifies the food ordering process – for both the customer and the partnering restaurants. Uber has a team of delivery partners who deliver foods from choice restaurants spread across different locations, right to your door.
All you may do is sign up via the Uber Eats app, search a favorite dish from a preferred restaurant and, order.
Whether burger and fries or Lebanese delicacy, you can have it delivered in 30 minutes. It's simple – enter your address and, voila! Here comes your order.
See also: Can You Pay Uber with Cash?